Community
As a UNICEF GOLD Rights Respecting school, we thrive on working alongside our school community and beyond. We foster positive, respectful relationships within and beyond our school community and celebrate the diversity that this brings.
We build our pupils knowledge of what characteristics a community has from the first moment they step into our school and explore how they as citizens can enhance and improve our local and national community.
Our PSHE curriculum coverage teaches the following in regard to community:
EYFS – rules in school and people in the school that form our community
Year 1 – what rules are, caring for others' needs, looking after the environment
Year 2 – Belonging to a group, roles and responsibilities, being the same and different in the community
Year 3 – the value of rules and laws, rights, freedoms, and responsibilities
Year 4 – what makes a community, shared responsibilities
Year 5 – Protecting the environment, compassion towards others
Year 6 – Valuing diversity, challenging discrimination and stereotypes
In addition to this, as part of our 'Ambition Project' pupils take part in a community project working on an area of interest to improve or support in that academic year. Historically this has included making cards to share with a local children's home, as well as creating craft packs for a local nursing home.
Children in Need
Each November, we raise awareness for Children In Need. Children have a fantastic time dressing up in their Pudsey Bear outfits, covering themselves in spots or wearing fancy dress. Children also have great fun placing their donations on our Pudsey Bear. Thank you parents, carers and guardians for providing brilliant outfits as well as for your donations that will go on to help vulnerable children all across the UK including children with disabilities, children in need of bereavement support and young carers.
You can donate Children in Need all year round.
Elmer and the Heart of Kent Hospice
We were really excited to take part in the Heart of Kent Hospice Elmer Parade last year. We were visited by Elmer to launch our project and we held an Elmer Danceathon to raise funds for our Elmer to be entered into the local Parade. In addition to this, pupils designed and painted our own baby Elmer that took pride of place in The Mall in Maidstone.
Harvest Festival
This event sees us come together with the local community, every year, to provide food parcels for those in need in our local area.
Our families generously donate produce that the children then deliver to the Salvation Army.
Local Mayor
We often invite the Mayor to visit us and also our children take part in the mayoral debates at the official chambers in Kings Hill. This is a great experience for our older pupils to develop their spoken English.
Local PCSO
We work closely with our Youth Engagement officer for Tonbridge and Malling. They help us understand topical issues around knife crime, common assault, shoplifting and peer pressure; who is legally responsible and more importantly who to turn to if you're in trouble or feel worried.
We are lucky that our local PCSO regularly visits us to talk to the children on any relevant topics.
Neighbourly Scheme
This brilliant scheme sees supermarkets work with local organisations such as schools, charities and care homes to give away their unsold fresh food so it doesn't go to waste.
Our school receives regular donations from Aldi which we use for our tuck shop as well as for extra snacks for pupils.
We also package some of the food into parcels to distribute to individuals and families in need, within our local community.
New shed with Jenner's help!
We are so grateful to the wonderful team at Jenner, who have supported the installation of our new shed for the PTA. Mrs Hall and Mrs Masson were delighted with the time and support they gave us, which has enabled additional and much needed storage.
Thanks everyone!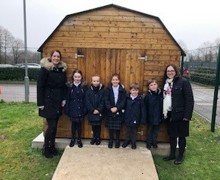 Remembrance Services
Each year we are invited to design a wreath in memory of those that served for our Country. Pupils attend the annual Remeberance Service in Kings Hill to show their respects and we have students that attend the Sunday service with their families to represent the school by laying our wreaths.
Sue Ryder Shop Window Art and Poetry Showcase
A group of children have decorated the window display at the Sue Ryder shop in Kings Hill, showcasing art work and poetry based on 'Inspirational Women'.
Everyone worked really hard and did an absolutely brilliant job - well done!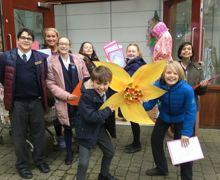 West Kent Partnership and Services
Find all the services, including food banks, community hubs and helplines offered in the West Kent area.
World Book Day Visit to Lavender Care Home
Year 2 visited Lavender Care Home in West Malling today to read their favourite stories to the residents as part of World Book Day.
The children had a brilliant afternoon and loved discussing their favourite characters with everyone.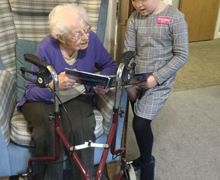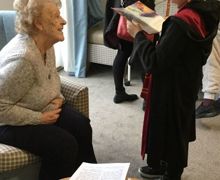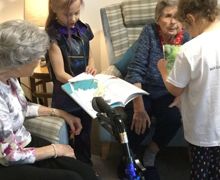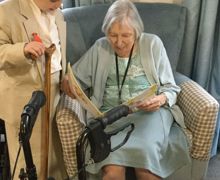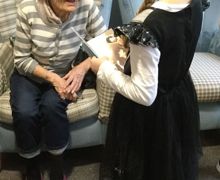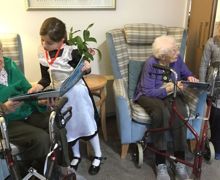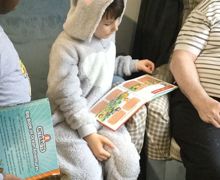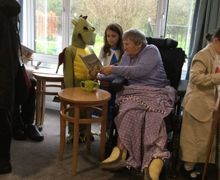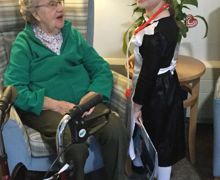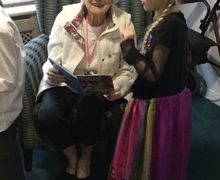 Links to Organisations We Work With
We work with a number of organisations in our local community and beyond. Here, you can find links to who they are and what they do.